At Elevate O2, we help you to create memories that last a lifetime.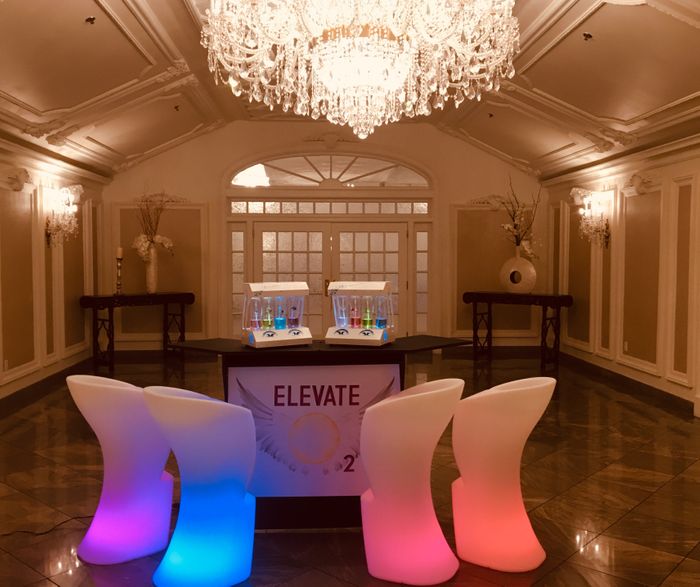 Elevate O2
At Elevate O2, we help you to create memories that last a lifetime. With years of experience in the event industry, Elevate O2 was created to provide a unique experience for all kinds of events around New York, New Jersey, Pennsylvania, and Connecticut. We specialize in providing oxygen bar services for a wide variety of events from weddings to Bar Mitzvahs and bring a whole new feeling to every event that we put on. If you are looking to make a lasting impression on your guests, Elevate O2 is here to provide you and your guests with an experience like no other.
What is an Oxygen Bar Anyway?
An experience like none other. We combine pure, unadulterated oxygen with seductive aromas for an experience that will blow you away. It's an experience that is euphoric, relaxing, and energizing like you're walking on clouds and it's a unique way to bring your next party to the next level. Your guests will love the experience that Elevate O2 provides. Pure oxygen feeds the cells; boosting energy, focus and mental clarity. We also provide a vast menu of aromas to choose from; lavender, lemongrass, chocolate covered strawberries, rosemary mint and more!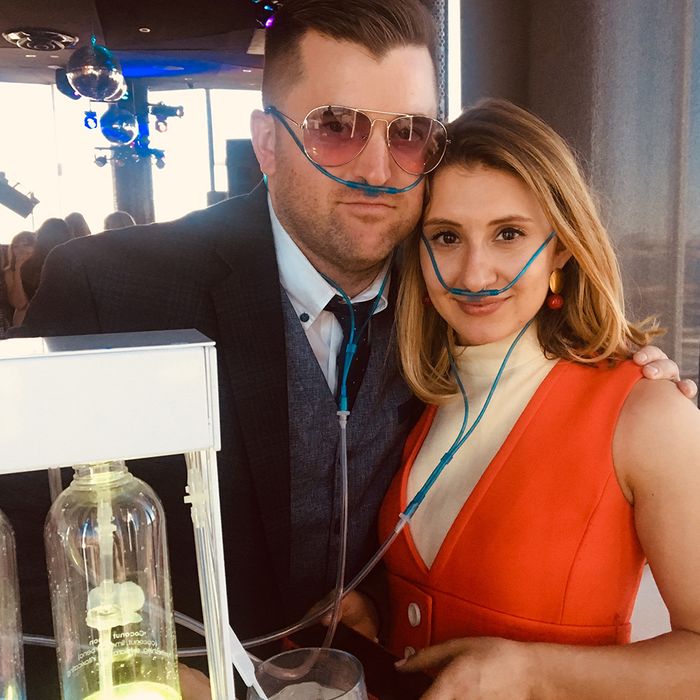 WHY ELEVATE O2?
Elevate O2 prides itself on providing a truly stand-out experience. We have years of experience and want to give your guests the time of their lives. If the party's not over, we're not going home. We're just as excited about the process as you are. We build real relationships with our clients that allow us to provide excellent customer service. If you want your next party to be even more amazing, contact Elevate O2 Today!
Elevate O2 are your go-to party enhancer and provides one of the best oxygen bars New York City, New Jersey, Pennsylvania, and Connecticut has to offer. If you're looking for an incredible experience for your next event, get in touch today! You won't be sorry!

⭑⭑⭑⭑⭑
Annual Event
The Experience is phenomenal, it's so refreshing and energizing, we absolutely loved it!
Allison, NYC - 4/1/2022

⭑⭑⭑⭑⭑
Sweet 16
The aromas are irresistible, this is the coolest thing to have at a party, it's genius.
Katie, NY - 7/19/2022

⭑⭑⭑⭑⭑
Corporate Gala
I was blown away by the whole oxygen bar concept, it's amazing, my co-workers and I want this everyday!
Rob, NJ - 8/30/2022
Whether you are looking to improve athletic performance, improve your mood, spend time with friends, or just provide a unique experience for your event guests, Elevate O2 is ready to provide you with exactly what you're looking for!
For more information about our services and how they can benefit you, reach out to us today! We look forward to bringing our expertise and passion for events to your special occasion!